TRENDnet's 28-Port Gigabit PoE+ Managed Layer 2 Switch with 4 SFP slots, model TL2-PG284, has 20 x Gigabit PoE ports, 4 x Gigabit PoE+ ports, 4 x shared SFP slots, a console port, a PoE Power budget of 185 watts, and an advanced Layer 2 management feature set. This IPv6 ready switch offers traffic management, troubleshooting, access control, and monitoring features.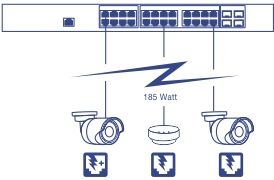 Power over Ethernet
The 185 W PoE power budget supplies PoE+ (up to 30 W) to ports 1-4, PoE (up to 15.4 W) to ports 5-24, along with PD (powered device) auto classification and over current/short circuit protection.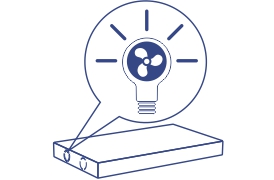 Smart Fans
Smart fans save energy and reduce operating noise by varying fan speed and usage based on real-time cooling needs.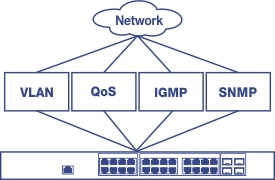 Integration Flexibility
Managed features include access control lists, VLAN, IGMP snooping, QoS, RMON, SNMP trap and syslog for monitoring and flexible network integration.


Hardware Design
Provides 20 x Gigabit PoE ports, 4 x Gigabit PoE+ ports, 4 x SFP slots, a console port, and includes rackmount brackets.

Smart Fan
Smart fan saves energy by varying fan speed and use based on cooling needs

IPv6 Ready
This switch supports IPv6 configuration and IPv6 neighbor discovery.

Traffic Management
A broad range of network configurations are supported by: 802.3ad link aggregation, Asymmetric VLAN, 802.1Q VLAN, Voice VLAN, Private VLAN, Bandwidth Controls, GVRP, IGMP v1-v3, 802.1p Class of Service (CoS), Spanning Tree (STP, RSTP, and MSTP), and QoS queue scheduling.

Troubleshooting
Real time traffic comparison charts, error group charts, and a convenient cable diagnostic test aid in rapid troubleshooting.

Access Controls
Features such as ACL, SSL, MAC / port filtering, Denial of Service controls, 802.1X, TACACS+, and RADIUS are compatible with layered network access controls.

Monitoring
RMON, SNMP, SNMP Trap, and Port Mirroring support administrator monitoring solutions.
Standards

IEEE 802.1d
IEEE 802.1p
IEEE 802.1Q
IEEE 802.1s
IEEE 802.1w
IEEE 802.1X
IEEE 802.1ab
IEEE 802.3
IEEE 802.3u
IEEE 802.3x
IEEE 802.3z
IEEE 802.3ab
IEEE 802.3ad
IEEE 802.3af (15.4 Watts / port)
IEEE 802.3at (30 Watts / port)
IEEE 802.3az

Device Interface

4 x Gigabit PoE+ ports
20 x Gigabit PoE ports
4 x Gigabit SFP slots
1 x Console Port
LED Indicators (LED display mode button: toggles Link / Activity or PoE)
Reset Button

Data Transfer Rate

Ethernet: 10 Mbps (half duplex), 20 Mbps (full duplex)
Fast Ethernet: 100 Mbps (half duplex), 200 Mbps (full duplex)
Gigabit Ethernet: 2000 Mbps (full duplex)

Performance

Switch fabric: 56 Gbps
RAM buffer: 1 MB
MAC Address Table: 16K entries
Jumbo Frames: 10 KB
HOL Blocking Prevention
Forwarding rate: 41.7 Mpps (64-byte packet size)

Management

CLI (Console / Telnet / SSHv2)
HTTP / HTTPS (SSL v2/3 TLS) Web based GUI
SNMP v1, v2c, v3
RMON v1
Static Unicast MAC Address
Enable / disable 802.3az Power Saving
LLDP
Virtual Cable Test
IPv6: IPv6 Neighbor Discovery, IPv6 Static IP, DHCPv6, Auto configuration

MIB

MIB II RFC 1213
Bridge MIB RFC 1493
Bridge MIB Extension RFC 2674
SNMPv2 MIB RFC 1907
Ethernet Interface MIB RFC 1643
Ethernet –like MIB RFC 2863
Interface Group MIB RFC 2233
MIB Traps Convention RFC 1215
RMON MIB RFC 1757, RFC 2819
802.1p MIB RFC 2674
RADIUS Client Authentication MIB RFC 2618
LLDP-MIB IEEE 802.1ab
Ping MIB RFC 2925, RFC 4560

Spanning Tree

IEEE 802.1D STP (Spanning Tree protocol)
IEEE 802.1w RSTP (Rapid Spanning Tree protocol)
IEEE 802.1s MSTP (Multiple Spanning Tree protocol)

Link Aggregation

Static Link Aggregation
802.3ad Dynamic LACP

Quality of Service (QoS)

802.1p Class of Service (CoS)
DSCP (Differentiated Services Code Point)
Bandwidth Control per port
Queue Scheduling: Strict Priority, Weighted Round Robin (WRR)

VLAN

Multiple management VLAN assignment
Asymmetric VLAN
802.1Q Tagged VLAN
Dynamic GVRP
Up to 256 VLAN groups, ID Range 1-4094
Private VLAN (Protected Ports)
Voice VLAN (10 user defined OUIs)

Multicast

IGMP Snooping v1, v2, v3 (per VLAN)
Static Multicast Address
Up to 256 multicast entries
MLD Snooping v1, v2

Port Mirror

RX, TX, or Both
One to one
Many to one

Access Control

802.1X Port-Based Network Access Control, RADIUS, TACACS+
Local Dial In User Authentication
DHCP Snooping (per VLAN)
Loopback Detection
Duplicated Address Detection
Trusted Host
Denial of Service (DoS)

ACL IPv4 L2-L4 & IPv6

MAC Address
VLAN ID
Ether Type (IPv4 only)
IP Protocol 0-255
TCP / UDP Port 1-65535
802.1p
DSCP (IPv4 only)
IPv6 Address (IPv6 only)

Management Utility

Windows® 10, 8.1, 8, 7, Vista, XP, Windows® 2003 / 2008 Server

Special Features
Power

Input: 100 – 240 V AC, 50/60 Hz, internal power supply
Consumption: 240.2 W (max.)

PoE

PoE budget: 185 W
802.3at: Up to 30 W per port (ports 1-4)
802.3af: Up to 15.4 W per port (ports 5-24)
Mode A: Pins 1,2 for power(+) and pins 3,6 for power(-)
PD auto classification
Over current / short circuit protection

Smart Fan / Acoustics

Quantity: 3
Noise Level: 54 dB(A) (max.)

MTBF
Operating Temperature
Operating Humidity
Dimensions

440 x 250 x 44.45 mm (17.3 x 9.84 x 1.75 in.)
Rack mountable 1U height

Weight
Certifications
Warranty
All references to speed are for comparison purposes only. Product specifications, size, and shape are subject to change without notice, and actual product appearance may differ from that depicted herein.
PACKAGE CONTENTS
TL2-PG284
Quick Installation Guide
CD-ROM (Utility & User's Guide)
Power cord (1.8 m / 6 ft.)
RJ-45 to RS-232 console cable (205.74 cm / 6.75 feet)
Rack mount kit